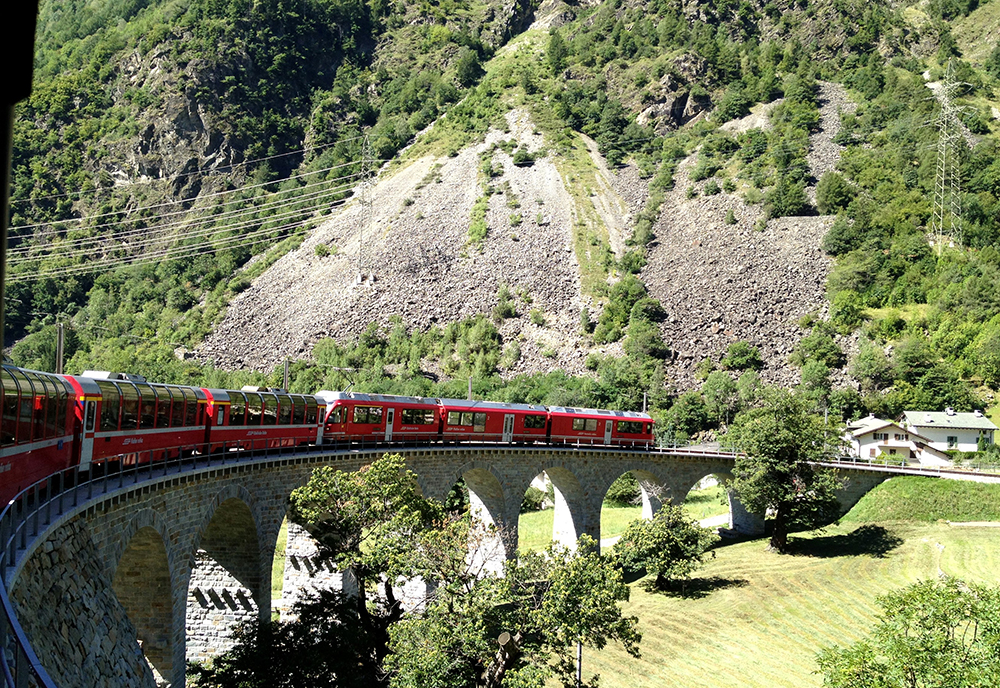 Require More Info or book?
Check availability
DESTINATION
Europe: Western
PROVIDER
Collette
DURATION
8 days
| Valued At | Pay Only | Save |
| --- | --- | --- |
| $4,655 per person | $4,099 per person | $1112 per couple |
Climb aboard legendary Alpine railways and set out on a journey across the captivating Alpine landscapes of Switzerland and Italy. Ride 3 legendary train routes – the GoldenPass Panoramic Train, the Glacier Express, and the Bernina Pass Train. Explore Lucerne, the "Swiss Paradise on the Lake." Relax in some of Europe's most stunning and exclusive resort villages, including Zermatt, St Moritz and Lago Maggoire, Italy. Spend time at a family-owned farm where you sample their handmade cheeses paired with local wine. Cruise across one of the world's most scenic lakes – Lago Maggiore. Across 2 countries, pass by towering mountain landscapes and discover quaint villages.
---
BONUS: Includes Travel Protection Plan insurance which allows you to cancel up to 24 hours prior to departure!
Plus Prepaid gratuities are also included.
---
Your guided holiday includes:
7 nights accommodation in 4 star hotels
A total of 11 meals - 7 Breakfasts, 1 Lunch, 3 Dinners
Select activities and inclusions
Price is based on select departures in May, June, July, August & October 2021. Surcharge applies for departures in September 2021.
** Extend your holiday and add on a cruise or stopover. Call us for details **
---
Must-See Inclusions:
Enjoy stunning Alpine views on the GoldenPass panoramic train
Soak up the mountain air with two nights in the Alpine village of Zermatt
Choice on tour: Today in Zermatt, have a choice of a tour with a local expert through charming Zermatt featuring its best-known landmarks (during the summer, you may add on a short hike to the famous Ricola Herb farm) -OR- enjoy a visit to the Zermatt Matterhorn Museum to explore at your own pace.
Explore the "Swiss Paradise on the Lake", Lucerne
Culinary Inclusions:
Savour a wine and cheese pairing at an Italian family farm
Relish a traditional dinner on the isola del Pescatori in Italy's Lago Maggiore
Cultural Experiences:
Board a lake boat and cruise to the most beautiful of the Borromean Islands
Stroll the lakeside boulevards of Lucerne, St. Moritz and Como
Journey through the Bernina Pass on one of the world's most scenic railways
GoldenPass Panoramic Train
Begun in 1901, this train is the oldest electric railway in Switzerland, and it features panoramic coaches with large windows and some dome cars. It began as a main line train, but soon became more touristic, and the gold-painted panoramic cars were added. This trip will take about 1 ½ hours from Gstaad to Montreux, which is on Lac Leman (Lake Geneva). Enjoy the spectacular views along the way!
Glacier Express Train
This famous bright red train runs the length of southern Switzerland between Zermatt in the west and St. Moritz in the east, and is known as the "slowest express train in the world." The trip takes about 7 ½ hours and it traverses its highest point at the Oberalp Pass at 6,700 feet (2042 meters). Some sections are steep enough to require a rack-and-pinion system on the tracks. The cars have panoramic windows and domes, and there is a restaurant car. The towns it links are among the most famous ski resorts in the world, and it gets its name from the Rhone Glacier in western Switzerland, one of the sources of Lake Geneva and the Rhone River.
Bernina Pass Train
Established in 1908, this train runs over the 7,600 ft (2316 m) Bernina Pass, the highest railway crossing in Europe. It connects St. Moritz in Switzerland with Tirano in Italy. The trip takes about 2 ½ hours and crosses some of the most spectacular scenery in the Alps, including the Morteratsch Glacier and beautiful Alpine valleys. The route requires several very tight curves and zigzags to manage the climbs and descents, and at one point crosses itself at the Brusio spiral viaduct in Italy.
Farm Visit with Wine and Cheese Pairing
Visit an ancient village nestled in the mountains where you'll stop at a local farm to sample their artisanally-produced cheeses paired with the region's delicious wines. Italy, renowned for the quality of its food and wine, offers the ideal location for an agricultural tour.
Lake Maggiore Cruise
Welcome to Europe's most beautiful lake. Set on the south side of the Alps, it is shared by Italy's Piedmont and Lombardy areas and Switzerland's Ticino canton. Its three Borromean Islands can be reached by boat from Stresa, one of the larger lake towns. The climate here is mild year round, creating the perfect environment for the many gardens that grow rare and exotic plants.
Island Dinner
Set sail for a panoramic cruise of magical Lago Maggiore with the majestic Alps as its incredible backdrop. Cruise to Isola dei Pescatori, one of the beautiful Borromean islands, and enjoy a delicious dinner.
Day 1. Lucerne, Switzerland - Tour Begins
Arrive in Lucerne and enjoy some free time to explore this lakeside town on your own. Tonight, join your fellow travelers for a welcome dinner in the city. Accommodation: Hotel Waldstaetterhof Meals: Dinner
Day 2. Lucerne
Explore Lucerne, the "Swiss Paradise on the Lake." Follow the ancient pathways of the city on a walking tour through an Altstadt (Old Town), passing through the covered 14th-century Chapel Bridge. Along the way, see the famous Water Tower that once served as a prison. Pause at the renowned Lion Monument, carved from sandstone to commemorate heroic soldiers. The evening is yours. Accommodation: Hotel Waldstaetterhof Meals: Breakfast
Day 3. Lucerne - GoldenPass Train - Montreux - Zermatt
Travel to Gstaad and climb aboard the GoldenPass panoramic train, taking in breathtaking Alpine views along the route to Montreux. Upon arrival, enjoy some free time in this resort town, situated on the shores of Lake Geneva. End your day in the car-less village of Zermatt. Accommodation: Hotel Pollux Meals: Breakfast and Dinner
Day 4. Zermatt
Choose how you discover Zermatt because it's your choice! Explore on foot during a guided walking tour -OR- experience Zermatt independently before visiting the Matterhorn Museum; learn more about the triumph and tragedy behind the first ascent of this imposing peak. The remainder of your day is at leisure. Accommodation: Hotel Pollux Meals: Breakfast
Day 5. Zermatt - Glacier Express Train - St. Moritz
Traverse bridges and tunnels while aboard the world-renowned narrow gauge Glacier Express. Enjoy the natural beauty of this route through the heart of the Swiss Alps. Filled with forests, fragrant meadows, gurgling streams and deep valleys, it's a mountain dream come to life. While onboard, relax and enjoy a 3-course lunch. Arrive in St. Moritz and enjoy the evening at leisure to relax or stroll the lakeside boulevard. Accommodation: Hotel Steffani Meals: Breakfast and Lunch
Day 6. St. Moritz - Bernina Pass Train - Lago Maggiore, Italy
Traveling along one of the world's most scenic railways, journey through the Bernina Pass en route to Tirano, Italy. Take in the striking landscapes of the Swiss and Italian Alps throughout your voyage, including the famed Morteratsch Glacier. Experience sweeping coastal views on your drive along the picturesque shores of Lake Como. Continue to Lago Maggiore, a tranquil resort area with crystal clear waters set against the backdrop of the Alps. Enjoy a local wine tasting and settle in for a 2-night stay. Accommodation: Zacchera Hotels Meals: Breakfast
Day 7. Lago Maggiore
Travel to Domodossola, an ancient village nestled in the mountains. Visit a family farm to see a different side to Alpine life. Learn about the artisan cheeses that they produce before sampling their creations, paired with the region's local wines. Return to your hotel for a free afternoon. As the day draws to a close, board a private boat for a cruise to Isola dei Pescatori, one of the stunning Borromean Islands. On the island, toast to the end of your Alpine adventure and savor a traditional farewell dinner. Accommodation: Zacchera Hotels Meals: Breakfast and Dinner
Day 8. Lago Maggiore - Tour Ends
Your scenic journey ends today in Lago Maggiore. Meals: Breakfast