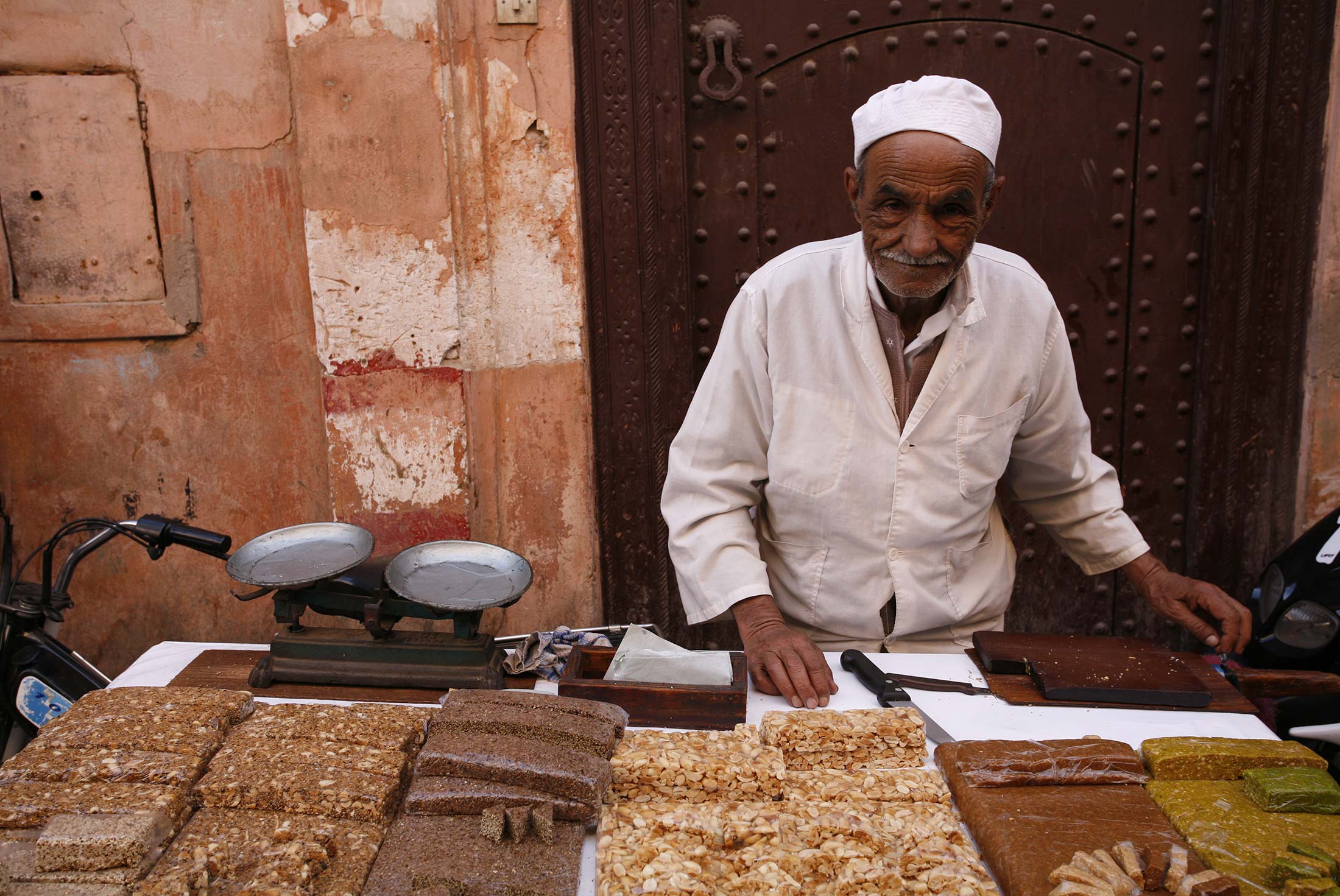 Require More Info or book?
Check availability
DESTINATION
Africa/Middle East/Egypt
PROVIDER
Peregrine
DURATION
16 days
| Valued At | Pay Only | Save |
| --- | --- | --- |
| $2,950 per person | $2,891 per person | $118 per couple |
Get to the heart of Morocco on this journey from Casablanca to Marrakech
This is our most extensive trip through exotic Morocco. The country's essence lies in the ancient cities, medieval bazaars and high mountain villages. And the food will be another highlight you won't forget!
---
Your Guided Holiday Includes:
15 nights accommodation
24 meals - 15 breakfasts, 1 lunch & 8 dinners
Select sightseeing + more
Price is based on select departures from 26 October 2019 to 19 December 2020
Included Sightseeing Activities:
Casablanca – Guided Tour of Hassan II Mosque
Fes – Guided Walking Tour
Tea making demonstration with Berber family
Marrakech – Guided walking tour
Seafood Market Lunch – Essaouia
Day 1. Casablanca
Welcome to Morocco! On arrival at Casablanca Airport, you will be met by a Peregrine representative and transferred to your hotel. While this is an arrival day and you may arrive at any time, please note that hotel rooms are generally only available after midday, and that there will a Welcome Meeting with your leader tonight at 6pm – check with hotel reception to confirm the time. If you arrive with time to spare, then a great option for your limited time in Casablanca is to visit the art deco Villa des Arts. This gorgeous gallery dates back to 1930s and holds numerous exhibitions of contemporary Moroccan and international art. If you are looking for a different type of cultural experience, then you can discover a unique and fascinating part of Moroccan history at the Museum of Judaism. Notes: Please be aware that some of our travellers in Casablanca are being approached by locals offering excursions before their Peregrine trip commences. This has been particularly prevalent in and around the hotels used by Peregrine. These guides are in no way connected to Peregrine and we cannot guarantee the safety or quality standards of their tours. We strongly advise customers not to join any tour offered by unauthorised guides. Peregrine assesses the safety of all optional excursions offered by our tour leaders. If you would like more information on the excursions available, please contact us before you travel or see the Peregrine branded notice in the reception of your hotel.
Day 2. Casablanca-Rabat-Meknes
This morning you will visit one of the most impressive sites in Casablanca – the massive edifice of the Mosque of Hassan II. Opened in 1993, and second only in size to the great mosque at Mecca, the huge building is part on land and part on sea, and in one area water can be seen through a glass floor. It can accommodate 25,000 worshippers and the main roof is retractable to create an open courtyard. It is one of the only religious sites open to non-Muslims. Later, you will leave Casablanca and drive north along the coast to Rabat (approximately 1.5 hours), the elegant capital of Morocco and its first Imperial city. It contains numerous fine Arab monuments, some dating from the 10th to 15th century Almohad and Merenid dynasties, and others that are far older. The earliest known settlement is Sala. Start your visit with the walk through Medina and Souks, then explore the lovely walled quarter known as the Kasbah des Oudaias and enjoy an included local drink. Afterwards, continue the walk to visit Mohamed the 5th Mausoleum the vast minaret of the Hassan Mosque. In the late afternoon, continue on to Meknes (approximately 2 hours), the sixth largest city in the kingdom, and former capital of Morocco.
Day 3. Meknes-Volubilis-Fes
This morning you will discover the charming streets of Meknes' medina – the old walled section of the city. Enter via the northern gate, Bab Berdaine, and walk to the shrine of Moulay Ismail who, in the 17th century, turned Meknes from a provincial town to a spectacular Imperial city. Visit Moulay Ismail Mausoleum. This peaceful and spiritual resting place of Sultan Moulay Ismail is one of the few sacred sites in Morocco open to non-Muslims. Constructed during his lifetime, Ismail chose this location as it had once housed Meknes's Palais de Justice (courthouse), and he hoped in death to be judged in his own court by his own people Take some time to soak up the atmosphere of this place before driving out of the city to the ruins of Volubilis (approximately 45 minutes). Volubilis was once a provincial Roman capital, a distant outpost of the empire, and the remains make an undeniably impressive sight. Volubilis is the foremost Roman site in Morocco and was declared a World Heritage Site in 1997. Upon arrival you will take a tour around the ruins with a local guide. Please remember to pack drinking water, hat, sunglasses and sun cream for this tour as it may get hot and you will be exposed to the sun. And, of course, don't forget to take your camera as the town is filled with fantastic mosaics along the Decumanus Maximus, many of which remain intact. After time spent imagining Volubulis as the bustling city it once was, continue on to the living museum of Fes for the night (approximately 1.5 hours). Check in to your hotel in late afternoon, and perhaps spend the evening relaxing in this calming oasis, away from the buzz of streets of Fes.
Day 4. Fes
Fes is the spiritual and cultural heart of Morocco; vibrant, noisy, fascinating and overwhelming – a visual and pungent feast for the senses. It is made up of three distinct 'cities', or quarters, and you will stay in elegant, riad-style accommodation on the edge of the huge, well-preserved medieval old city – the mother of all medinas. Today head into the old city, known locally as Fes el Bali, arguably the world's most fascinating and confounding old city. Medieval Fes was one of the world's great centres of education and culture, both Islamic and Jewish. Its religious institutions and libraries are legendary, its mosques of great renown. Walk through the twisting streets and alleyways, passing donkeys piled high with goods, and explore the specialty sections that divide the souk. Filled with historic khans, medresses and dye-pits, stalls loaded with fruits, herbs and soups, and where the squawk of chickens, smell of spice and sound of hammering of copper fills the air, it's not hard to imagine yourself back in the Middle Ages. Spend the day exploring the old city, visiting, Mederasa attarine, the tanneries and the splendid Funduk Nejjarine, a beautifully restored 18th century inn. Return to your hotel in the late afternoon and enjoy a memorable dinner of one of the city's signature dishes, the salty and sweet pastille. Notes: Today's experience will include shopping in carefully selected places. As the receipt of commissions or kickbacks in exchange for recommending particular shops, services or activities is ingrained in the culture of the Moroccan tourism industry, Peregrine has established a centralised system of receiving and distributing payments from these recommended suppliers. For more information, please refer to 'Important Notes' section or talk to your Tour leader on the ground. In addition, please note that if you are not interested in shopping experience, you need to advise your tour leader about it beforehand. It is possible for you to have a free time during the tour, however, it will be impossible to set a meeting point inside the medina due to the fact it is so complicated to navigate. If you decide to leave the group you will only be able to meet back with them in your hotel in Fes.
Day 5. Midelt
Today, leave the intensity of the city behind for the simplicity of the High Atlas Mountains. Drive south, inland through a variety of spectacular scenery – fertile valleys, cedar and pine forests and barren, rocky landscapes – to the small town of Midelt (approximately 5 hours). Midelt is a market town, originally built as a base for mining in the area, and is nestled in the high plains surrounding the Moulouya River, between the Middle and High Atlas mountain ranges at an elevation of just over 1,500 metres. It's a perfect spot to break up the journey to the Sahara, and is a great base for some easy walks. Many of the locals are Berber, and the town can offer an insight into their way of life. After lunch, stretch your legs for a few hours on an easy hike in the nearby hills. Be prepared for some astonishing views of the Atlas Mountains, with snowy peaks almost touching the sky. Wander through plantations of apple trees on the way back to your accommodation for a relaxing evening, resting up before the Sahara tomorrow.
Day 6. Sahara desert
This morning there's time to take another refreshing walk. After that we'll drive through changing scenery, from barren mountainsides to fertile valleys, on the journey to Merzouga. With a backdrop of the orange-coloured Erg Chebbi sand dunes, the charming Saharan village of Merzouga feels wonderfully isolated, like the modern world has left it behind. The Erg Chebbi dunes are the most stunning in the country and an essential part of any visit to Morocco. An erg is a vast sea of shifting wind-swept sand that's formed into picturesque, undulating crests and valleys. The Erg Chebbi is one of the world's iconic landscapes, with towering dunes up to 150 metres in height Located at the end of a sealed road and just 20 kilometres from the Algerian border this really feels like frontier country. You will leave your gear at your overnight camp set next to a simple Auberge and then ride camels into the edge of the Sahara Desert, enjoying a spectacular sunset along the way. The dunes are stunning, especially as the evening light plays across them and sets off the colours. Tonight you will camp out in traditional style, with the chance to try some fantastic local cuisine while you sit around an open fire, enjoying lively music and dancing under the stars.
Day 7. Todra Gorge - Dades valley - M'goun valley
Enjoy a real Lawrence of Arabia moment this morning with yet another camel ride, this time for unforgettable sunrise across the desert. After breakfast drive to Todra Gorge (approximately 4.5 hours), a massive trench that rises over 250 metres to form one of the most dramatic and spectacular natural sights in Morocco. The limestone stacks make a perfect area for trekking, and so today you will take a short walk through the sheer cliffs. Then continue on to the beautiful Dades Valley (approximately 1 hour), where you will stop for a break and have some time to take in the remarkable scenery – sprawling green valleys and rocks sculpted into stunning formations by the wind. Continue your journey inland for tonight's destination, M'goun (approximately 1 hour) where you will have a chance to observe the customs and lifestyle of the Berbers.
Day 8. Full day walk in the M'goun Valley
You have a full day to explore the beauty of this largely untouched Moroccan backcountry. On foot is the best way to discover the natural and man-made landscape and the rural way of life. There are a couple of circuits to choose from, but the most popular choice, and the one we recommend, is a 10 kilometre circuit that will take about four hours. Take a short transfer to the start of the trek. Accompanied by a local guide, you'll walk a trail that undulates slightly here and there, but isn't too challenging if you have a basic level of fitness. On the walk you'll pass Berber villages, meeting local people along the way. You'll learn the tea making secrets of Berbers at the exclusive demonstration with a local family. Listen to their stories and discover the way of family life in M'goun Valley. The surrounding mountains and the famous Rose Valley make a sensational setting.
Day 9. Ait Benhaddou
Leaving the Dades Valley today, set off on the fabled 'Road of 1,000 Kasbahs'. The first stop is at Skoura Oasis (after approximately 1 hour), home to several privately owned kasbahs. Here visit the Kasbah Ameridhl, with its extravagant decorations and mud-brick fortifications. Continue on your journey to Ait Benhaddou (approximately 2 hour). Perched on a hilltop and almost unchanged since the 11th century, Ait Benhaddou is one of Morocco's most iconic sites. Its grant kasbah is one of the most beautiful in Morocco and the fortified village is a fine example of clay architecture. If you think you recognise the place, you probably do, as the town has a long list of film and TV credits, including Lawrence of Arabia, Game of Thrones and Gladiator. Enjoy a walk through the winding streets of old town, making your way to the top of the hill, from where you can enjoy the views across the surrounding plains. After heading to your nearby hotel for the night, maybe sit back on the roof top terrace and watch the sun setting over the magical Kasbah.
Day 10. Ourigane
Leave Ait ben Haddou after breakfast and drive for several hours through the winding roads of the Atlas Mountains. We can take our time as the scenery is magnificent and keen photographers may call for a few photo stops! Our destination today is Ouirgane, small town and rural commune in Al Haouz Province of the Marrakesh-Tensift-El Haouz region of Morocco. Nestled in the tranquil foothills of the High Atlas Mountains in the heart of the Toubkal National Park lays this pretty Berber village that provides the visitors with an alternative and lesser-visited base for walking. With its gentle winter climate and moderate summer, it is a great place to stroll around the nearby red-earth hills and pine forests, watch a wide variety of bird life or just sit back and relax at an invigorating altitude of 1,000 metres - all that with the amazing view of Jebel (Mount) Toubkal in the background.
Day 11. Ourigane-Marrakech
Today you will drive for couple of hours through the winding roads of the Atlas, bound for Marrakech, an ancient, exotic city wrapped in European modernity. There's no rush as the scenery through the High Atlas Mountain passes is magnificent, and there will surely be calls for several photo stops along the way. On arrival in Marrakech you will check in to your beautiful riad, or Moroccan mansion; beautifully decorated, cosy yet historical. This evening, why not head to the great square of Jemaa el Fna, one of the largest public spaces in the world and unique to Marrakech. When night falls it transforms into a hive of activity. Henna-painters, performers and storytellers share the square with a street food bazaar, packed with stalls loaded with Moroccan delicacies. Enjoy a bite of famous Moroccan pastries with a glass of freshly squeezed orange juice, and then finish your day with a cup of tea on one of the roof-top restaurants overlooking the square.
Day 12. Marrakech
After breakfast today, meet your local guide and set off on a morning tour of the old medina, through the bustling souks that are the lifeblood flowing through the city. Visit Le Jardin Secret, a traditional medina garden revived for the 21st century. Once owned by a powerful local chief U-Bihi who was poisoned by Mohammed IV, this historic riad has one of the most beautiful courtyards in Marrakech, combining exotic and traditional Islamic gardens that are fed by original khettara, an underground irrigation system. Visit a pavilion with exhibits on the riad's history including a documentary on the restoration process, and climb its tower for views across the medina. Continue to the Marrakech Museum, itself a former palace, which houses a fine collection of Moroccan art and sculpture. Stop by the Koutoubia Mosque; its famous minaret is the prototype for others of its kind around the world, including La Giralda in Seville. Then walk back through the streets of the old medina, stopping at small but inspiring Photography Museum, to the Jemaa el Fna, where you will go behind the scenes of the markets with a local guide who will provide an insight into Moroccan specialities at hidden stalls in the medina. The rest of the day is free to explore further or shop in the bazaar. Perhaps visit the tropical gardens of the French painter Jacques Majorelle or check out the ruins of the Palais Badi, once one of the most beautiful palaces in the world. Bahia Palace is another option to spend your afternoon. Explore tranquil courtyards filled with the scent of orange blossom, and the many salons and chambers that make up for this architectural wonder. This splendid mansion was built in 1866 for a former slave who rose to power within the government. Otherwise, head back into the medina, where every step brings a new smell, a new sight or a new gift to buy. Watch skilled artisans perfect their craft, practice your haggling skills or take a break from the hustle to sip on tea or share a tajine, filled with the pure scent of Morocco. For your final evening, join again with the group, and once more dine on Moroccan specialities with your old new friends in one of traditional riads in Marrakech.
Day 13. Marrakech - Essaouira
After breakfast leave for Essaouira (approximately 2.5 hours), a city where the medina brushes up against the Atlantic Ocean and where you will spend the next two nights. The narrow streets of Essaouira are ideal for casual exploration. Their size discourages cars, and on walk through the town it feels as though little has changed since the days of sea pirates. Sandstone walkways contrast with whitewashed houses, bright blue sky and the sand of the surrounding beaches and dunes. It is one of North Africa's most attractive places, and you will soon find yourself slipping into its easy-going rhythm of this Moroccan town with a European seaside twist. The fishing port is a serious commercial operation and there's much fun to be had observing the daily catch and its subsequent auction. Elsewhere there are numerous shops and several fine art galleries to distract a visitor, along with a wide variety of restaurants. Your tour leader will help guide you through the maze of options. This evening you might like to indulge in a luxuriating massage and hammam in a spa.
Day 14. Essaoiura
The name Essaouira means image, which is appropriate since it's such a picturesque town. This artists' town was once home to sizeable British and Jewish populations, and its charm has seduced people like Orson Welles and Jimi Hendrix, who (according to local legend) spent much of his time here in the 1960s. On this free day perhaps grab a traditional Moroccan breakfast and wander the streets, giving way to the cart-haulers calling 'ballak, ballak', pass the harbour filled with colourful boats which go out early every morning for the day's catch, see camels and surfers sharing the beach, and perhaps explore the fish souk. Here you will choose a catch of the day and take it to a local-filled restaurant – follow their lead and hand over your market purchase for it to be grilled for the freshest of meals. Your leader will also take you to the fresh vegetables markets where you will choose your salads and veggies to accompany your seafood lunch. Enjoy delicious meal together with the rest of your group. Take day to search the less hectic medina, discover the Sidi Mohammed Ben Abdallah Museum and its collection of artefacts, woodwork, carpets and stringed instruments, enjoy cafe life on the main square, or sit back and watch the kitesurfers ride the crashing waves. You can also discover the taste of Morocco in a cooking class, or head outside of the city to the beautiful surroundings on a daytrip.
Day 15. Essaouira - Marrakech
The morning is free for you to explore further, and in the afternoon drive back to Marrakech (approximately 2.5 hours). Once you have settled in to your hotel, you will likely be drawn back to the Jemaa el Fna, and its surrounding medina. Eating out at one of the many outdoor restaurants lining the square is a great way to finish your adventure.
Day 16. Marrakech
Your trip ends today after breakfast. Check-out time is usually around midday and you are free to leave at any time. If you have arranged a private airport transfer you will be advised of the pick-up time. Additional accommodation can be pre-booked if you wish to spend more time exploring here. Speak to your leader about the wealth of extra activities to do around Marrakech.